The Christian Campus House is a support based ministry, which means without faithfull individuals and church contributions we would not exist. We have devoted parents, alumni, and community members, that give financially on a monthly basis or with periodic one-time gifts, so we can continue to minister to the students of UCM. We invite you to be a part of this community of faithful contributors.

There are many opportunities for you to support our mission of helping students find their way back to God. Whether you would like to provide for general expenses that helps support all areas of the ministry, individual staff members that raise personal support to meet their living needs, or specific projects and trips the students are involved in, you can mail us a check or you can donate online by clicking here or the link below.

All gifts are tax deductible, and you will receive a receipt from us via email and a year end report in the mail shortly after the year's end.

Make checks payable to:
Christian Campus House
211 S Maguire St.
Warrensburg, MO 64093
Online giving portal:
[Click Here to begin the online giving process]
Please note that you have several online giving options and the information that follows may determine which option you prefer to use. You can choose to designate your contribution to a specific area of the ministry, such as "General Fund," "Katie Danforth - Intern Support" or others. You may also choose to give a recurring contribution or a one-time contribution as well as the options of using an eCheck/ACH or to use a debit/credit card. The fees and rates to the Christian Campus House from our secure payment provider are different based on your desired method of giving and you can even choose to cover the additional 2.6% fee if you desire.
Online Transaction Rates/Fees Per Transaction
2.6% + $0.30 = debit/credit cards
0% + $0.35 = eCheck/ACH

Thank you for your consideration to partner with us and if you have any questions, please don't hesitate to contact us... we are excited to partner together and make a difference in the lives of as many University of Central Missouri students as we can.
Daylen Brandes - Campus Minister: dbrandes@digdeeper.org
Virginia Sackett - Financial Secretary: sackettvirginia@gmail.com
Office Phone: (660) 362-0875

"Glorify the Lord with me; let us exalt his name together." Psalm 34:3
---
Here is a specific example of how God has moved some of our alumni to support the Campus House even after they have gone: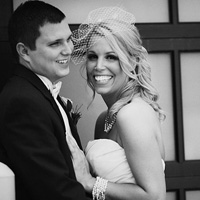 "Melissa and I got involved with the Christian Campus House during our freshman year at UCM. We began going to DIG on a weekly basis and eventually became more and more involved with the ministry. We joined [community] groups, helped with projects, and Melissa served as an intern; all bringing us closer to CCH. During our junior year we both felt somewhat of a need to go on a mission trip, which led us to Haiti. Though this was before the earthquake, there was still a huge need for help and more importantly, love. The experience was phenomenal and can hardly be described in words for so many reasons. To fully paint a picture would take much more time and space on this page than we have, but the point is, it was an experience that wouldn't have been possible without the Campus House supporting, and organizing, and planning, and sharing the trip with Melissa and I.
"The Campus House was such a great place for us to grow and realize and share experiences of our faith. It was a gateway if you will. We hadn't fully realized how important supporting the Campus House was until we got out of school and away from everything. It was then that we decided, if for no other reason (though there are plenty of others), we would support the Campus House so that other students could have the same experience that we had only a couple of years ago when we traveled to Haiti. We feel like we've been blessed with such awesome experiences through CCH that we had to give back so that other students could benefit as well."
Drew & Melissa Woolery :: 2010 Graduates