wednesday DIG worship: what to expect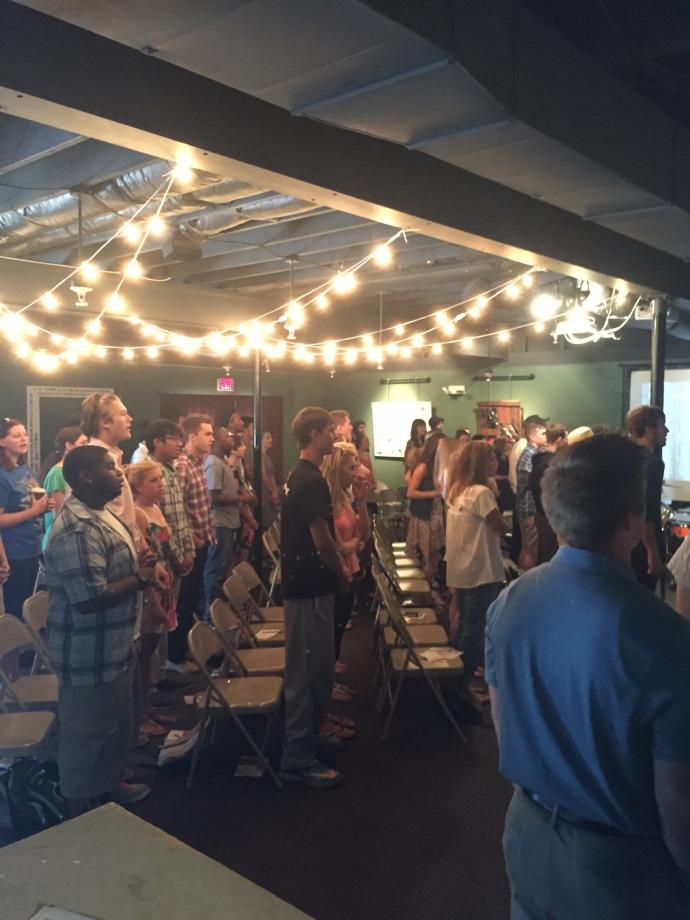 We gather for DIG worship together most Wednesdays evenings during the semester at 7:30pm in our building on the corner of Highway 13 (Maguire St) and Broad St in Warrensburg. Click here for contact info.

There are no expectations for dress or prior church experience – simply come as you are.
---
entering
If you enter our building from the parking lot entrance, you will immediately find yourself in our main gathering area. The lights and music are likely to be low, with a informatives slides running prior to service beginning.
If you enter from the sidewalk entrance, or if you go upstairs from the main gathering area, you will find French-pressed Dillano's Fair Trade coffee readily available amongst other hot drink options. The atmosphere is vibrant and light hearted as we catch up on the time spent away, enjoying fellowship and conversation.
beginning
When 7:30pm rolls around, we'll gather downstairs to begin our service. One of our pastors will open with an exchange of "shalom," a recognition that we come bringing peace into the room, but also that we wish to receive this wholeness in midst of our often unpeaceful lives.
At some point in the service (beginning or closing), we will share any announcements of which the community needs to be aware. We do not bring these to your attention lightly: these are the deeds of our community and whether serious or fun, are nonetheless vital to our expression of faith and life.
music
The actual quantity and placement of music and Scripture readings varies from week to week. The music is chosen carefully, not only for its artistic quality, but especially for its lyrical content. We hope that every song we sing is simultaneously beautiful, approachable, ushering us to deeper communal worship of God and also worthy of contemplation later.
teaching
This moment is a vital aspect of our worship together, as it is the primary opportunity to logically express our faith journey guided by God's Word. We believe the purpose of a sermon is to be a "talk that starts talks"; a first rather than a last word. In our opinion, a successful teaching time will not leave you with a feeling of certainty (as though you've got a "handle on things") as much as a desire to dialogue the with your friends and family after the service as we seek to find truth.
Follow this link to listen to our podcasts.
communion
This is the keystone of our worship together – the moment when we "actualize" the faith of which we've sang, read, and spoken over the course of the service. There is so much to say about this moment in our worship together, but words can distract. We simply invite you to the Table with us.
closing
Following communion and song, announcements may be shared with the final closing being the exchange of "shalom," as a way of committing to share this peace we have received with the world into which we return for our daily lives.